Explorer Vans for Sale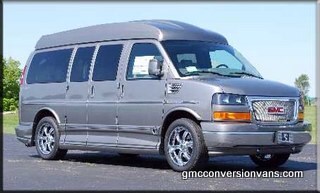 If you're looking for America's #1 choice when it comes to Chevrolet, GMC and Ford conversion van manufacturers, then you've come to the right place.
Explorer Van Company makes it a priority to create custom conversion vans which provide customers with the ultimate driving experience. These vans come loaded with top-of-the-line standard interior, exterior and safety features. You can also choose from a number of luxury conversion van and "Special Edition" package options.
Basically, Conversion Explorer Vans are designed to meet your every need.
Perhaps one of the best parts of the conversion van is most actually have better fuel economy than a standard SUV. It doesn't matter if you're taking a cross-country, family road trip, or a quick run to the store, the Explorer Conversion Van is the perfect addition for any family.
At Dave Arbogast Conversion Vans, we're proud to offer a wide selection of new Explorer Conversion Vans and used Explorer Conversion Vans. Please don't hesitate to give us a call (866) 975-3287 if you have any questions about a particular model you see on our website. You can also reach us by filling out the brief contact form to the right.
Thanks again for visiting and don't forget, at Dave Arbogast Conversion Vans, all of our vehicles are "Driven to Satisfaction".

Tweet